Naara Rural Bank hints of Waiving Interest on Loans of Customers
News & Reports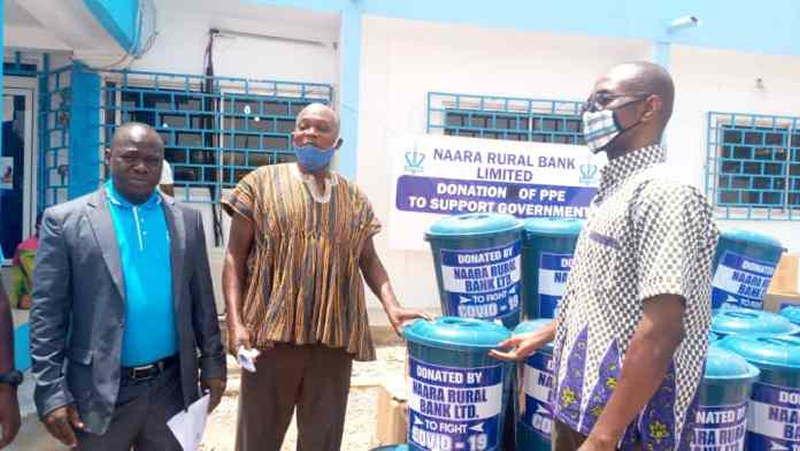 Naara Rural Bank in the Upper East Region has hinted of a possible waiver of interests on loans to it's customers.
The move is to ease financial pressure on customers who have existing loan facilities with the bank and as a result of the global Coronavirus pandemic, have not been able to actualize returns in their businesses

This was revealed by the General Manager of Nara Rural Bank,Samuel Namoog at a ceremony to hand over items to manage the spread of Coronavirus cases in the country.

The presentation was made to the Kassena-Nankana West District Assembly for onward distribution to health centers in the area.

Mr. Namoog indicated that "As a bank, we do not just look at the business aspects of it, but our clients comfortability is paramount. So, we believe that waiving the interest rates of outstanding loans at this cruel time for our clients will go a long way to strengthen the relationship".

He noted that though the disease has come with many challenges leading to some companies laying off workers to meet operational cost, there were no intentions by Naara Rural Bank to do so.

"We have heard from other universal banks that are laying off their workers but we are different, as a rural and community bank we believe in hard work as hard work brings excellent service so we will not use the deadly virus to downplay the excellent service of our workers", he noted.

He, however, appealed to the government to extend it's stimulus package to cover the rural and community banks across the country.

The donated items included: 50 Veronica buckets, 1,200 pieces of nose masks, 150 pieces of 4.5-Litres of liquid soap, 250 pieces of 500-milligrams of liquid soap, and 540 pieces of 150-milligrams of hand sanitizers at an estimated cost of Ghs35,000.

Receiving the donation on behalf of both Kassena Nankana Municipal and West District, the District Chief Executive for the Kassena Nankana West, Gerard Ataogye thanked the management of the bank for the gesture, adding that the support came at a time that health workers needed them the most.

Since 1981, Naara Rural Bank has been operating closely with farmers, women groups through savings and provision of soft loans to grow indigenous businesses.